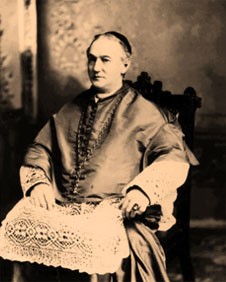 St. James the Apostle Catholic Church has a long and proud history. In 1879 while visiting Griffin, Georgia, Redemptorist Bishop William Gross of Savannah said the first Mass in the home of Charles Wright. By 1910, Catholics in Griffin were able to worship in a frame chapel.
On April 4, 1943, the first Mass in McDonough was celebrated in the home of Mr. And Mrs. Jesse Gasses. For 16 years, Mass was celebrated in the Gasses home for the 17 Catholics living in and around McDonough. Later, the mission was moved to the top of the Masonic Building in McDonough. When fire destroyed the building, the mission was moved to the Agricultural Building.
In 1966, Redemptorist priest Reverend James Anderson purchased the land of the existing church site. The church was officially dedicated on May 23, 1971 and named for Anderson's patron saint.
Parish Mission Statement
We, the Catholic family of St. James the Apostle,

marked by our gifts and energy and hospitality,

celebrate our Lord's saving presence at His Table,

in His Word, and in One Another.

We commit ourselves to the mission of Jesus Christ,

by building the reign of God in our midst through our continued growth,

mutual love, and Christian outreach.

Empowered by this life in community,

we become One in Spirit – a living body of Christ in the world!