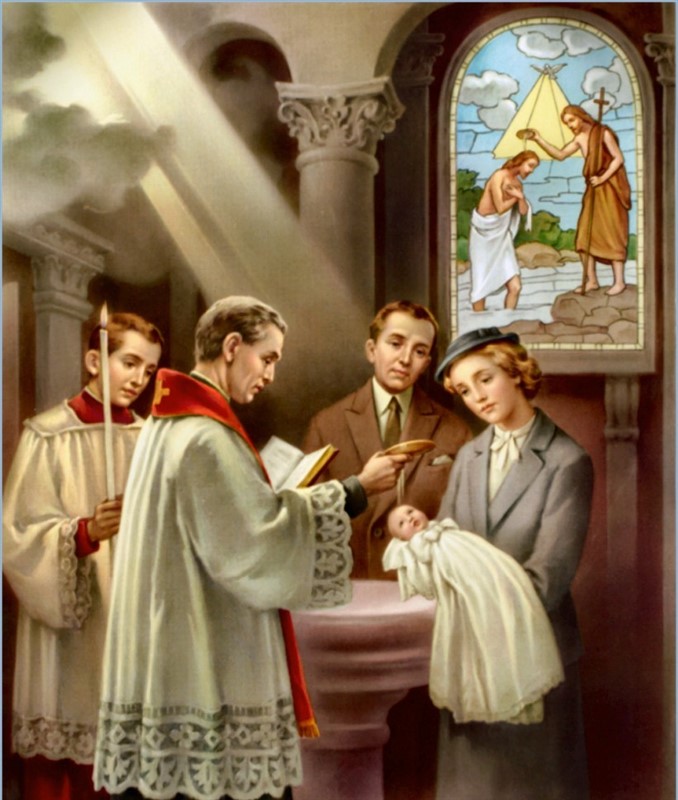 Parents must be members of St. James for at least 3 months or have their pastor's permission to have their child baptized at St. James. Parents must also attend our pre-baptism class.
Click here for our Baptism Preparation Packet. Please call the Parish Office for more information regarding the requirements and policies of baptism.
Please use the form below to register for the sacrament. Thank you.

Baptism Preparation Classes are normally held on the third Thursday of the month at 7:00pm in Room 210/211.
Please make a reservation below for a seat in this class.
All forms must be completed and submitted and sponsor information must be verified in order to schedule a baptism celebration.
Our upcoming schedule follows:
April 20
May 18
June 15
July 20
August 17
September 21
October 19
November 16
December 21
The practice of infant Baptism is an immemorial tradition of the Church. There is explicit testimony to this practice from the second century on, and it is quite possible that, from the beginning of the apostolic preaching, when whole "households" received baptism, infants may also have been baptized. (1252)