Hospital Ministry – Ministry to the Sick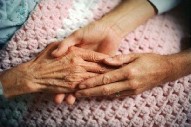 These ministries go out and serve the communities surrounding St. James.
Those serving in the Hospital Ministry visit and distribute the Eucharist to those Catholics who are in Henry Medical Center, area nursing homes, assisted living centers, and hospices.
Those serving the Ministry to the Sick bring the Eucharist to those parishioners of St. James who are sick at home or otherwise homebound and cannot attend Mass on a regular basis.
Both of these ministries not only share in the Eucharist, but also bring to them a friendly face, kind words and prayer, and much needed encouragement.
Any Extraordinary Minister of the Eucharist may serve in these ministries once training and a background check have been completed.
If you are interested in serving in these ministries, please contact the parish office at 770-957-5441