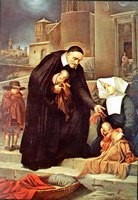 Help Line: 678-892-6163
The Society of St. Vincent de Paul offers tangible assistance to those in need on a person-to-person basis. It is this personalized involvement that makes the work of the Society unique. This aid may take the form of intervention, consultation, or often through direct dollar or in-kind service.
The St. Vincent de Paul Society at St. James works with those in need in the Henry County area. Volunteers of all ages are needed. If you would like to help with this ministry, please contact Jackie Coy at jamrockjc@aol.com.
---
Charity is certainly greater than any rule. Moreover, all rules must lead to charity. With renewed devotion, then, we must serve the poor, especially outcasts and beggars. They have been given to us as our masters and patrons.
In order to assist with this ministry, each participating member (18+) must complete a VIRTUS screening and Background Check.