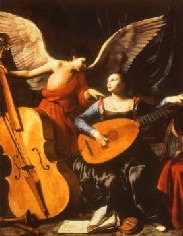 Diane Scarbrough – Director
770-957-5441, extension 104
The music ministry at St. James is perfect for the young and not-as- young who wish to glorify God through music. Whether you prefer traditional Catholic music or a more contemporary sound, we have the perfect place for your talent.
This ministry is led by Diane Scarbrough who has been actively and passionately involved in music ministry all her life. She has been our music director since 2001 and a parishioner of St. James since 1990. Diane received a Bachelor of Music Education from Southern Illinois University where she majored in Voice (opera concentration) and minored in Piano. She continued her voice studies with Metropolitan Opera diva Marjorie Lawrence and Ralph Nolan of Mercer University.
Click on the links below to find our more about each of the ensembles within our Music Ministry. For more information or to join one of these groups, please contact Diane at 770-957-5441, extension 104.
Prayer to St. Cecilia
O glorious saint, who chose to die
Instead of denying your King.
We pray you please to help us
As His fair praise we sing!

We lift our hearts in joyous song
To honor Him this way,
And while we sing, remembering,
To sing is to doubly pray.

At once in our hearts and in our tongues
We offer double prayer
Sent heavenward on winged notes
To praise God dwelling there.

While in our hearts and tongues we try
With song to praise God twice,
We ask dear saint, to help us be
United closed to Christ!

When you sing, you pray twice. – St. Augustine