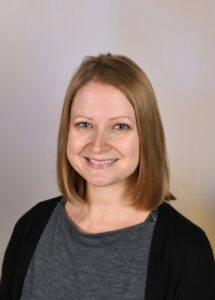 Vickie Spieth
Vickie Spieth has been in education for 20+ years. With a Bachelor's in Education and a Minor in Music, she has taught students of all ages in Ohio, California, and Georgia. She lives in McDonough with her husband, two sons, and their cute little dog Eddie. Her boys attended St. James Preschool, and she has always been very fond of the program and the teachers. She became a staff member herself in 2018 and quickly learned the ropes. Vickie is excited to start the 2021-2022 school year as Director of the Preschool and hopes to have an amazing year!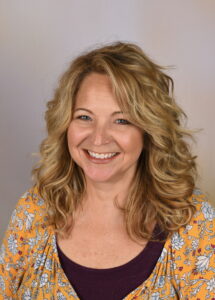 Paige Giltmier
Paige Giltmier has been at St. James Preschool for 17 years. She began as an aide in the Three Year Old program and was a Lead Teacher for 5 years in that age group. She is now in her 11th year teaching Four Year Olds and preparing them for Kindergarten. She attended Lagrange College where she earned a Bachelor of Arts in Business Administration with a Minor in Psychology. She has two college age children who both attended Saint James Preschool.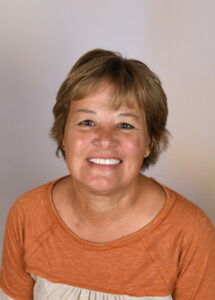 Linda Armstrong
Linda Armstrong began teaching at St. James Preschool in 2008. She and her husband David moved to Georgia in 1995 from Cape Cod, MA, though she is originally a Philly girl. They have a daughter and two grandchildren. Linda teaches one of our 3 Year Old classes and loves it. The children are so sweet and a little crazy at that age, and that suits Linda just fine. She loves their curiosity and enjoys watching them grow as they learn about the world around them, the love of our Lord, and the joy of making new friends.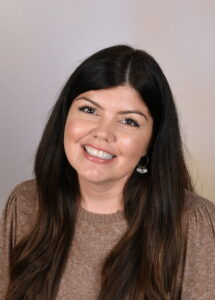 Melissa Finley
Melissa Finley has been a part of the St. James family for 9 years. She lives in McDonough with her husband and 2 sons who attended St. James Preschool. Melissa first became involved in the Preschool as a room helper. She became a staff member in 2018 as a 2 Year Old teacher and is currently one of our 3 Year Old teachers. She loves helping the children learn and grow!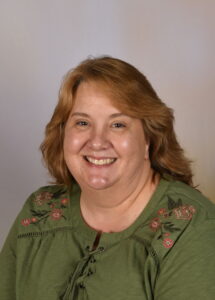 Tracy Howard
Tracy Howard has been a teacher at St. James Preschool for the past 18 years. She started off teaching the Three Year Old classes then moved onto the Four Year Olds for the past 15 years. She enjoys teaching and helping the children prepare for Kindergarten. She has been married to her husband Will for the past 32 years, and they have three children. Their eldest Matthew is a Seminarian for the Arch Diocese of Atlanta. Their son Jake has a Bachelor's degree in computer science, and their youngest daughter Kacy just started working for Piedmont Atlanta as a nurse in the cardiac step down unit. Tracy is very excited to start another year at St. James, a place she considers her home.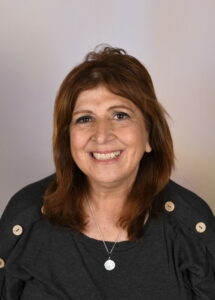 Angel Huss
Angel Huss has been teaching at St. James for 4 years. She has taught preschool children for a total of 12 years. Angel is also an After School teacher in Henry County and has mentored children at an Elementary School in Clayton County. She loves watching the children learn and grow each and every day! Angel was born in Illinois. From there, she and her family moved to Tampa, Florida. She studied various subjects at Broward Community College and Duval County, as well. She has lived in Georgia for 20+ years now with her husband Rex, teenage daughter Genevive, and their 2 dogs, Belka and Apollo.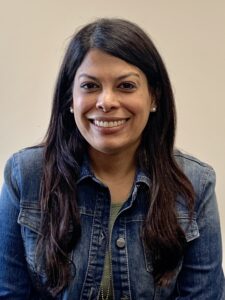 Channy O'Meara
Although she has been a member of the St. James parish for more than 10 years, Channy is new and excited to be a part of the St. James Preschool family! She was born in the Dominican Republic, but has lived in Georgia for many years. Channy has been married to Anthony O'Meara for 15 years, and they have two wonderful children, Adelle (age 14) and Timothy (age 12). She is a great addition to our staff, and we are happy to have her!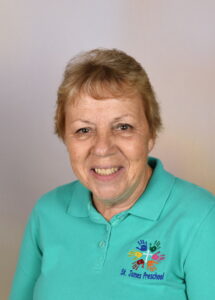 Trish Voorhees
After retiring from a career in Transportation/Logistics, Trish volunteered to watch her six week old grand twins while their parents went to work. As time went by, it was decided they needed to go to preschool. There was no question about where they would be enrolled since Trish was already a parish member of St. James! Now having more free time, Trish volunteered at the preschool and eventually took on a substitute teacher position. She eventually became the Mother's Morning Out teacher and is now the teacher of the Two Year Old class. She is still taking classes on preschool education and continues to learn and grow as a teacher. It is a very rewarding position for her, and she loves the children as much as they love her.
Return to Preschool Page